Doing the Right Thing by the Customer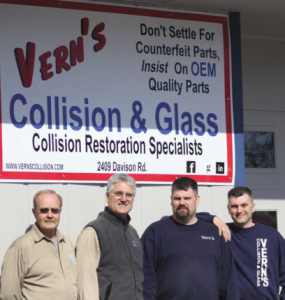 Vern's Collision and Glass was recently featured in the GM Repair Insights magazine about our commitment to keeping our customers safe in their vehicles. Read the original article here or continue reading below.
Michigan Independent Body Shop Prevails with Firm Stance on Quality Repairs, OE Parts
As the owner of Vern's Collision & Glass, Mike Herriman doesn't try to serve a lot of masters. Among independent body shops in Flint, Mich., he prides himself on being a true free agent, answerable to just one entity: the customer.
Competitors, insurance companies and parts suppliers may vie for influence, but Herriman stays focused. The only thing that matters to him is what's best for the vehicle owner. With 42 years in business, you could say it is a time-tested recipe for success.
"I don't claim to be an expert on aftermarket parts, but I've tested a lot of them over the years and all have failed to meet the criteria of 'same like and kind quality'," he says. "If I were to use them, I feel I'd be guilty of failing to act in the best interest of my customer." -Mike Herriman, Vern's Collision & Glass
"When you're handed the keys you assume an obligation to do whatever you can to return that vehicle to a safe, pre-accident condition," he says. "Morally and legally, we're obligated to act in good faith on the customer's behalf."
One of the surest ways he's found to do that is to have a laser-like focus on OE parts. He proudly advertises that he uses "original manufacturer's parts." It's an ironclad stance that allows him to consistently perform quality repairs.
Herriman frames the OE vs. non-OE debate as a clear choice between what's certain to work and what probably won't work. And he defines "work" not just as fitting, but performing as part of the vehicle safety system.
Unlike non-OE replacement parts, OE parts are verified to perform, he points out. They match exact specifications of parts designed and tested by the vehicle manufacturer. And that's a critical difference because all body components contribute to a vehicle's structural integrity, which design engineers strive to maintain. It follows that the only certain way to ensure that the vehicle will perform properly in a future collision is to install OE parts and follow manufacturer-recommended procedures.
"Everything we do in this industry should first be focused on safety," Herriman argues. "People buy a vehicle to get them from point A to point B without getting hurt. We don't want to be installing any part that could possibly alter the vehicle's crash resistance capabilities or its ability to protect passengers."
Herriman concedes it's getting harder for Independent Body Shops (IBSs) to insist on OE parts. Usage of non-OE parts grows as more direct repair shops are rewarded by insurance companies for using non-OEM parts. But the vehicle owner is the big loser. In his estimation, they get a patched-up vehicle, not one restored to a structurally sound and safe condition. And if trouble ensues, they're left holding the bag.
IBS's concerned about better protecting their customers' interests should revisit their mission and protocols, Herriman advises.